Almost 9:30pm, been working non-stop since 9am, but I'll be damned if I don't keep up this weekly post! They say it takes twenty-one days of repeating a behavior before it becomes a habit. I wonder if I'm at that mark with this post or would it be at the twenty-first post that this task will become a must do, like brushing my teeth. None of this has anything to do with anything, and so here are the pictures from last weeks tattoo work.
Got to work on this Japanese sleeve a little more, it's coming along pretty good.  This is my favorite point, I like to call it the coloring book stage. All the tedious line work is out of the way, and the life giving shading can begin.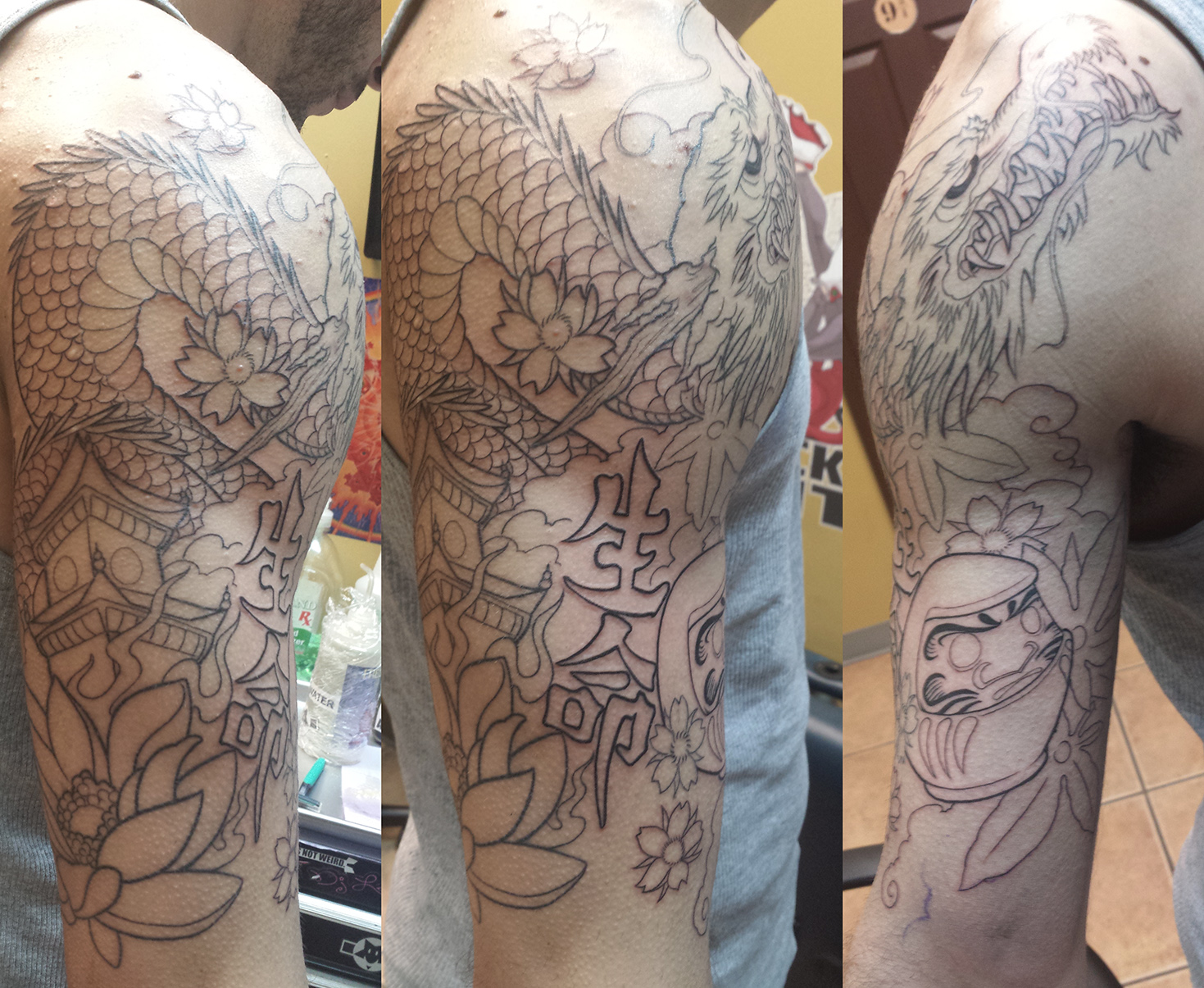 That weird mask looking thing in the bicep there is called a Daruma Doll, a representation of the dude that began Zen Buddhism in Japan. The tradition is that you get the doll with blank eyes, you make a wish or goal and fill in one of the eyes. Once this wish / goal is gained you then proceed to fill in the remaining eyeball. I had no idea about any of this, learned it all looking into it, making sure I knew what I was tattooing. Thanks to my sister for the translations!
Here is a pic of an actual doll:
This next piece, came to me with just the center pieces, which you can distinguish by their old and blown out look. He was very concerned because it came to his attention that these design were off centered and unbalanced on his arm. My solution here was to add something that would give the illusion of symmetry by distracting with complexity. In this final session we did some touch ups and added a light shading "frame" around the whole thing.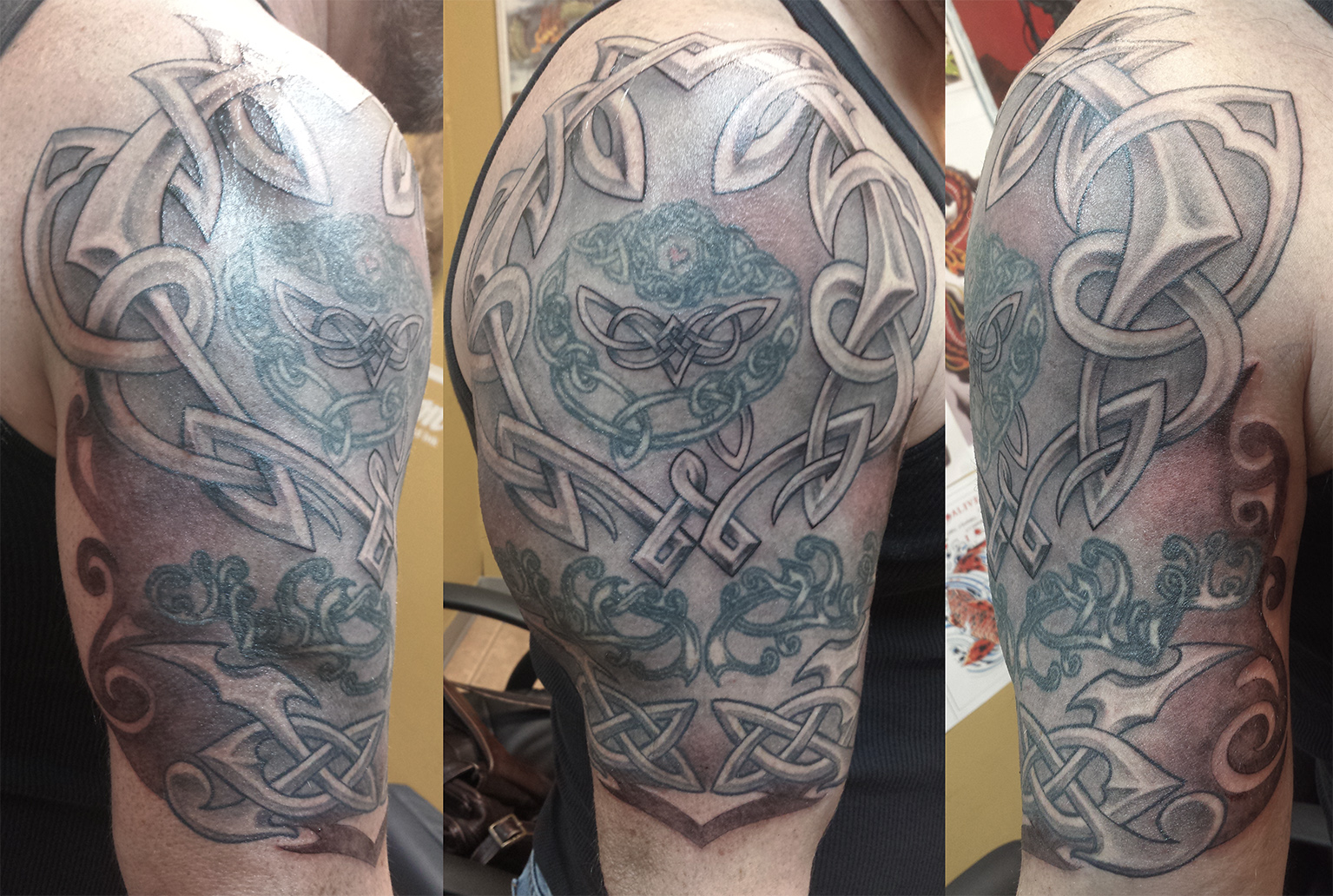 Afterwards, we took some time to fix another little thing on his upper back.
Here is a little Sanskrit  with an Om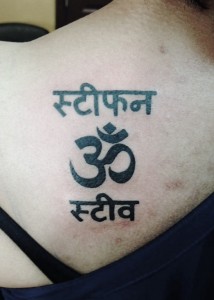 I was supposed to work on an Egyptian half sleeve, but life often happens and things gotta get postponed. Just in case anyone is following the narrative and notices I was supposed to post pics, but haven't. Just in case.
I did however get to start a cool new project, whose fist step in the ten thousand needle poke journey was this flower here. The leaves with the lady bugs were already there, I'm blending them in into the whole as we go along.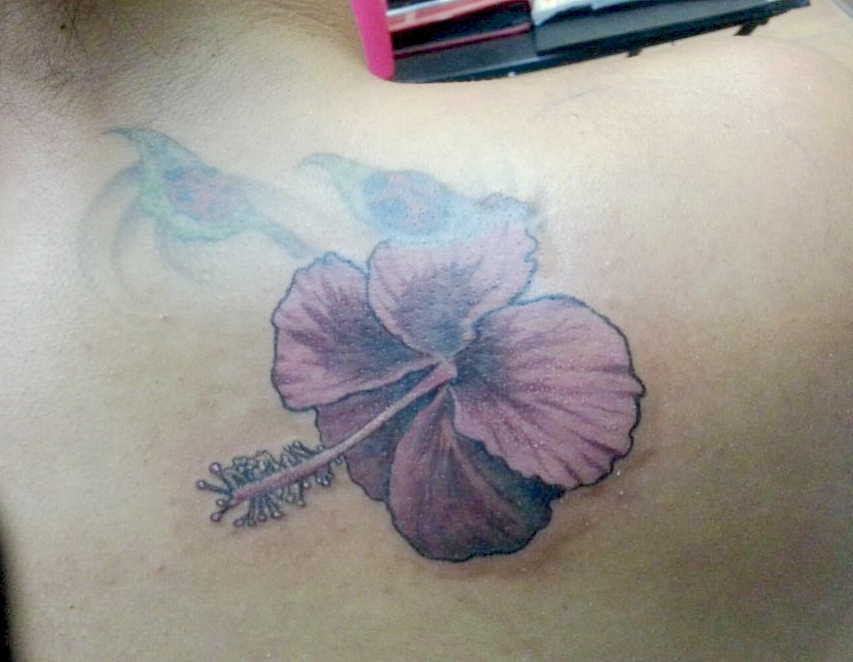 This next piece, I did not start nor design. It was extremely  faded and falling apart for lack of contrast when it came to me. I have put in about 6 to 8 hours of fixing into it at this point.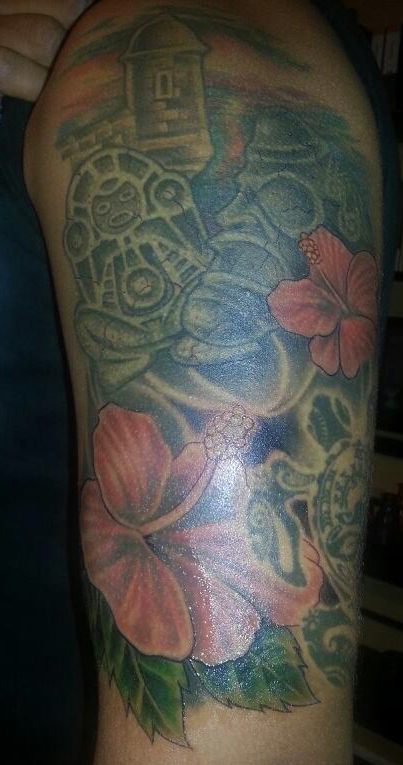 And lastly for the week, worked on the zentangle style half sleeve, one of my most different projects in recent times.  Finally got some shading and texture effects happening.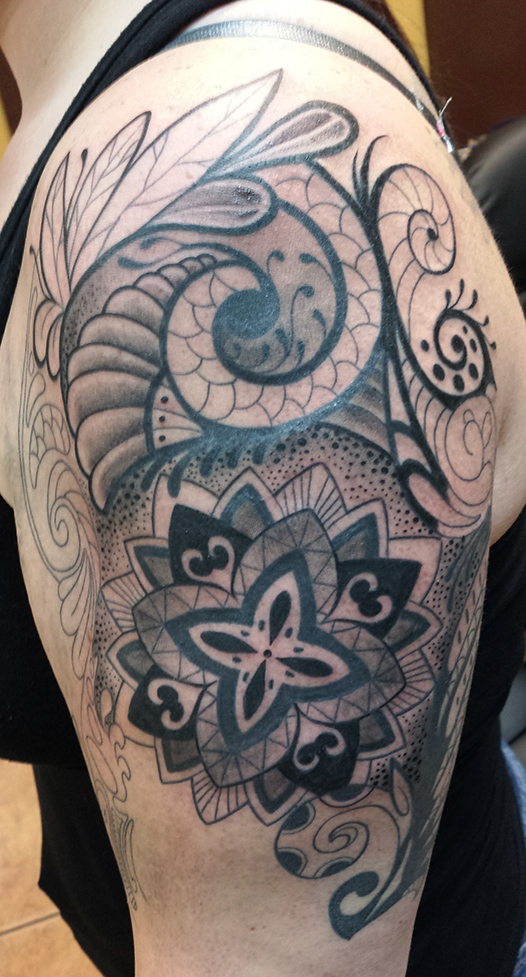 Got some stickers and T-shirts made with the Kokopelli tattoo dude (Kokopellink, as I like to call him). Pass by the salon and I'll hook you up with a free sticker. They are printed with white on clear vinyl, so they are great on almost any color surface… but white.
This one is on my home studio door.
Tees are 10 bucks if ya wanna pick one up, sizes S to 3xl. I will be giving some away, as I did last week, once in a while through the FaceBook. Follow me there if you want a chance to win one.
Thanks for stopping by. Sink a fork in me.
Click here for the TATTOO GALLERY.